Description
I. Phono Equalizer consisting of two Monoblock units
The Phono Equalizer unit consists of the shaved 12mm thick aluminum front panel, 2mm thick copper plating steel chassis base and 2mm thick aluminum cover; so, it has the strong chassis.
The equalizer units separated into L/R and the separated powerful power supply unit support the playback sound by which you can enjoy music expressing the overwhelming liveliness and recreation of vistaed stage because of the high resolution and high S/N ratio.
II. Separated Power supply unit adopting the Large capacity R-core Transformer and Directly-heated Rectifier Tube
The luxurious rectifier circuit consisting of the R-core transformer having more capacity than necessary and the rectifier tube not generating a switching noise principally, 5U4G and two choke transformers separated to L/R is adopted.
In addition, the high S/N ratio is achieved by adopting the DC heater circuit using a 3-terminal regulator for the tube heater power supply.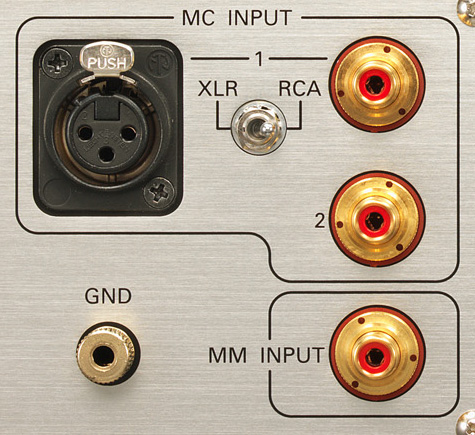 III. Adopting a variety of input-switching functions
1. Three lines, MC1, MC2 and MM, are installed; and in addition to RCA terminals, the balanced input terminals of XLR connector are installed for MC1.
2. The new step up voltage transformer originally produced by our company is incorporated for the MC input line and the input impedance switch (LOW: 10 ohm or less, HIGH: 10 ohm or more) is installed.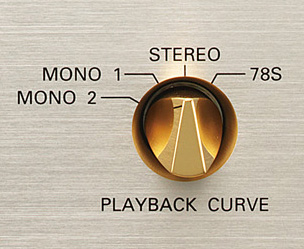 IV. Non-feedback Equalizer consisting of Tube Unit Amplifiers
1. The non-feedback SRPP amplifier circuit which excels in transient characteristics and has a reputation for sound quality is adopted as a unit amplifier. You can enjoy charming vigorous sound quality because a tube amplifier has wide dynamic range.
2. CR equalizer circuit is adopted.
In addition to the RIAA characteristics for stereo system, the monaural characteristics, Mono-1 using in DECCA label, Mono-2 using in Columbia label, and SP characteristics are installed. Even in the monaural playback, music can be played truthfully furthermore.
V. Texture Securement
WDT I/O terminals evaluated as high product quality and high sound quality are adopted. The shaved 12mm thick aluminum front panel and the 2mm thick top cover are galvanized to champagne gold color and the shaved brass operation buttons are decorated with 24-carat gold; therefore, the dignity finish having high universality will not disappoint you on the owner's joy.